Liam Aitchison murder: No murder weapon found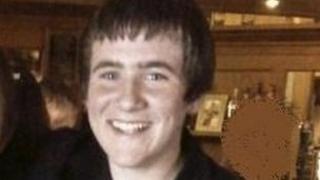 No murder weapon was found during the large-scale investigation into the death of Western Isles teenager Liam Aitchison, a jury has heard.
Det Sgt Iain Morrison confirmed that police used "very significant resources" in a murder inquiry described as "rare" on the islands.
The High Court in Glasgow had earlier heard that Liam, 16, had been stabbed 20 times.
Twenty-two-year-olds Stefan Millar and Johnathan MacKinnon both deny murder.
Liam's body was found in a derelict property in Steinish on Lewis in November 2011.
Det Sgt Morrison was the final prosecution witness in the case.
He was one of the lead officers in the police team investigating the death of Liam, who had originally been reported missing.
It is claimed the teenager was struck on the head and body with a knife and bottle as well having his head stamped on.
Police resources
Prosecutor Iain McSporran put it to the officer that no murder weapon by "scientific or any other means" was identified.
Det Sgt Morrison replied: "That is correct."
Mr McSporran then said: "That is despite a very significant deployment of police resources?"
The officer replied that was the case.
Det Sgt Morrison also agreed with a suggestion by Mr McSporran that the "occurrence of a murder" on Lewis was a "rare event".
In cross examination, Mr MacKinnon's lawyer Iain Paterson later asked the detective: "Every single police officer on Stornoway would have been aware of this murder inquiry and its importance?"
Det Sgt Morrison said: "That is right, sir."
Advocate depute Mr McSporran later said he would be calling no more witnesses and closed the case for the prosecution.
A taxi driver later told the court how Mr Aitchison was "a great guy".
But Donald MacRae said he had found the teenager to be "down" and that Liam had been sleeping rough in the derelict building where his body was later discovered.
'Great guy'
Mr MacRae - a defence witness called by Mr MacKinnon's legal team - said he had previously driven Liam to the run down property "a couple of times".
The 41-year-old told the jury: "The twice I recall taking him out, he was on his own. He told me his circumstances - he talked to me quite a lot. I knew that he was down."
Mr Paterson asked the witness what the teenager was doing at the building.
Mr MacRae replied: "He was sleeping there. On Lewis, he was a homeless kind of guy."
The cabbie said he recalled telling Liam that he was going on holiday, but that when he returned he would pay for the teenager to stay somewhere.
Mr MacRae went on: "His last words to me were: 'If I last that long'. I feel guilty because I thought it was maybe the drink talking.
"I still feel guilty, but that is something that I have to live with."
Mr MacRae said the last time he thought he saw Liam was November 2011.
He also told the trial: "Normally he was a jovial kind of guy. He was a great guy - humorous."
The trial, before Judge Lord Kinclaven, continues.