Assurances sought on Inverness-Gatwick flights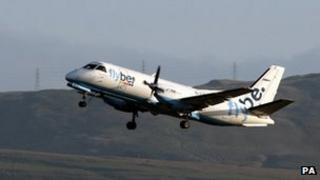 Highland Council's leader has said that Easyjet has given him an encouraging response to his questions on the future of Inverness-Gatwick flights.
A three-times-a-day service operated by Flybe is in doubt following the airline's decision to sell all of its take-off and landing slots at Gatwick.
Easyjet, which also operates a Gatwick-Inverness service, is set to take over the slots next March in a £20m deal.
Drew Hendry now hopes to set up a meeting with Easyjet boss Hugh Aitken.
There have been concerns that Flybe's sell off will affect the frequency and timings of the Inverness-Gatwick connections.
Mr Hendry wrote to Easyjet. He said that in its response the airline said it was committed to maintaining its current level of service.
In a separate move on the issue, Labour MSP David Stewart said he hoped to raise the matter in the Scottish Parliament later.