Liam Aitchison murder: Stefan Millar denies prison 'brag'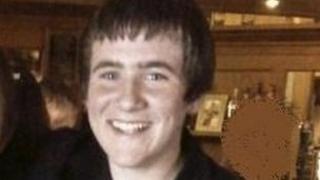 A murder suspect has denied confessing to a former cell-mate that he was involved in a teenager's death.
Stefan Millar, 22, of Inverness, was giving evidence for a second day at his trial at the High Court in Glasgow.
He and Johnathan MacKinnon, 22, of Elgin, deny murdering Liam Aitchison, 16, on Lewis, on 23 November 2011.
The court has previously heard a claim that, while at Inverness Prison, Mr Millar "bragged" to Dominic Long that he was involved in Liam's death.
It is claimed Liam, from South Uist, was struck on the head and body with a knife and bottle as well having his head stamped on.
His body was found in a derelict property in Steinish.
Mr Millar's QC Frances McMenamin asked him if he had confessed to Mr Long. He replied he did not.
The advocate went on: "Were you so low, so down that you needed to talk to someone to get it out of your system?"
Mr Millar said: "No."
Ms McMenamin asked: "Any reason to pour your heart out to confess to murdering Liam Aitchison to Dominic Long?"
Mr Millar replied: "No reason at all."
'Desolate building'
Under cross-examination, prosecutor Iain McSporran asked Mr Millar whether he regretted "opening up" to Mr Long.
The accused replied: "I never opened up to him, so had nothing to regret."
Mr McSporran gave his closing speech to the jury after Mr Millar's testimony.
The advocate depute said Liam had been "left for dead" in a "squalid and desolate building".
He claimed the prosecution case was "compelling and persuasive" and that both accused "stand and fall together".
Mr McSporran also referred to evidence that Liam took a bottle of aftershave belonging to Mr MacKinnon, who then allegedly punched the teenager.
The prosecutor said: "It would be hard to imagine that the theft of a bottle of aftershave could result in this terrible death."
Mr McSporran also said that there had been "gruesome or brutal violence" in this case.
He told the jury that the Crown evidence pointed towards the guilt of both accused and that Mr Long's testimony had been "the icing on the cake".
The trial, before Judge Lord Kinclaven, continues.