Paths repair team's cabin airlifted into Cairngorms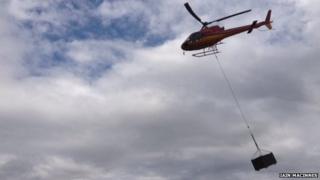 A cabin has been flown into the heart of the Cairngorms to provide accommodation for path builders during a 12-week tracks repair project.
A helicopter airlifted the temporary home in sections to the slopes of 1,296m (4,251ft) Braeriach, Britain's third highest mountain.
The paths repair work is part of a four-year project to improve about 58 miles (94km) of trails.
Some of the footpaths involved date back to the Middle Ages.
The Cairngorms Mountain Heritage Project, managed by the Cairngorms Outdoor Access Trust, is costing £2.1m.