Liam Aitchison murder: Evidence made up, QC says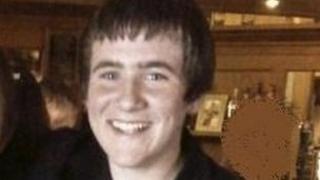 The evidence of a witness in the Liam Aitchison murder trial has been described as "exaggerated".
Johnathan MacKinnon and Stefan Millar, both 22, deny killing the 16-year-old on 23 November 2011.
Mr Millar's QC Frances McMenamin spoke about the testimony of Dominic Long, who claimed Mr Millar "bragged" about being involved in Liam's death.
The men were cell-mates at Inverness Prison after Mr Millar was arrested, the High Court in Glasgow had heard.
Ms McMenamin said Mr Long was the prosecution's "star witness" and that without him there would be no Crown case against Mr Millar.
The QC told the jury: "The Crown would have you believe that Stefan Millar chose a then 16-year-old - a total stranger with such obvious and serious problems - and, having earlier maintained his innocence, confesses to Dominic Long."
Ms McMenamin added: "Dominic Long's evidence is a piece of made up exaggeration of what he was told."
Mr MacKinnon's lawyer Iain Paterson earlier made his closing speech and urged jurors not to "speculate" or be detectives like "Cagney and Lacey or Inspector Rebus".
He added: "There are more curious aspects to this case than you would find in a curiosity shop."
Mr Paterson told how prosecutors had to prove "beyond reasonable doubt" that the accused were involved in the "brutal and most horrific murder".
The solicitor advocate said every question had been answered with a piece of evidence that "pointed to the innocence" of Mr MacKinnon.
Mr Paterson said: "If you look at the evidence then you should acquit Johnathan MacKinnon of this charge of murder."
Judge Lord Kinclaven is expected to address jurors on Friday.
It is claimed Mr Aitchison, from South Uist, was struck on the head and body with a knife and bottle as well as having his head stamped on. His body was found in Steinish, on Lewis.
The trial, before Lord Kinclaven, continues.