Liam Aitchison murder: Men convicted of killing Liam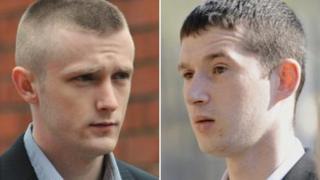 Two 22-year-old men have been convicted of killing Liam Aitchison, the victim of the first murder on the Western Isles in more than 40 years.
The 16-year-old, from South Uist, was beaten, stabbed and stripped of clothing during the attack on 23 November 2011.
Liam's body was found in a derelict property in Steinish on Lewis.
Johnathan MacKinnon and Stefan Millar denied murder. A jury at the High Court in Glasgow found them guilty.
The last murder on the Western Isles had been the killing of 80-year-old Mary Mackenzie at her cottage at Brue on Lewis in 1968.
There was a murder inquiry in 2006 after Murdo MacDonald, 56, was beaten by three men in Stornoway, on Lewis, and later died from his injuries.
However, the charges against Mr MacDonald's attackers were later reduced to serious assault.
Liam Aitchison had socialised with Millar and MacKinnon after he started living in Stornoway. The three had worked in the fishing industry.
The court heard that on 23 November Millar and MacKinnon had fought with Liam. There were claims that Liam had stolen a bottle of aftershave from MacKinnon.
Derelict building
Witnesses said the two men had told them that the teenager was okay and they had last seen him headed for a friend's house.
Almost two weeks after his girlfriend and other friends last saw Liam alive his body was found in a derelict RAF building at Steinish, near Stornoway Airport.
He had been struck on the head and body with a knife and bottle as well as having had his head stamped on.
The court heard that Liam was stabbed 20 times.
Shouts of "yes" and "pair of monsters" were yelled from the family of Liam when the jury's verdict was returned.
The pair now face life sentences when they are sentenced on 28 June at the High Court in Edinburgh.
Judge Lord Kinclaven remanded them both in custody and the two killers showed no emotion as they were led to the cells.
The judge thanked the jury for their care and attention shown in what he described as an "anxious" case.
Outside the court, Liam's father, Norrie Aitchison, said his son had had an outgoing personality and a "heart of gold".
He said the murder had left a "big void" in the life of Liam's mother, Mhairi.
Mr Aitchison added: "He fought to defend himself but he didn't stand a chance against the violence he came against that night.
"He was left stripped of his clothes with 20 stab wounds, no family should have to endure what we have.
"The cowards who robbed our Liam of his life and his future should never be able to see the outside of a prison ever again."
Liam's step-mother Claire, who has accompanied Mr Aitchison to court during the trial, appealed to a thief who stole her purse last week to return three photographs of Liam that were inside it.
She said a girl wearing a hooded top had put her hand into her pocket, containing the purse, while she was picking up medication at Pollok Health Centre.
Det Insp Andy Logan, the senior investigating officer on the murder case, said his thoughts were with Liam's family.
He said: "Liam would have just celebrated his 18th birthday this month had he not been murdered.
"Liam was a 16-year-old boy who had his whole life in front of him and enjoyed the support of a small number of persons locally.
"Unfortunately, Liam fell into the company of Johnathan MacKinnon and Stefan Millar, believing them to be his friends and placing his trust in them.
"They completely betrayed this trust, and in a most brutal and callous way they killed him in a senseless and sustained attack with weapons."
Western Isles area commander Ch Insp Gordon MacLeod added: "A murder in the Western Isles is an extremely rare event. It affected the whole community very deeply."