Glendale Trust take over Meanish Pier on Skye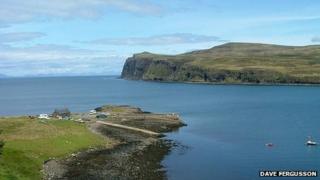 A historic pier on Skye has been brought under community control.
Meanish Pier in Glendale was where marines were landed from a Royal Navy gunboat as part of a crackdown on rebellious crofters in the 1800s.
It was also used in the export of potatoes and wool and for landing herring and steam ship passengers.
Glendale Trust has taken the pier over from Highland Council. The trust plans to repair the decrepit slipway and put it back into use.
During 1882 and 1883, crofters in Glendale rose up against their laird in a dispute over rents and access to land.
HMS Jackal was sent into Loch Pooltiel to land marines at Meanish Pier to aid in the arrest of the rebellion's ringleader.
The pier was important to trade and helped to link the area with other parts of Skye and the mainland.