Highland Wildlife Park's rare Amur tiger has two cubs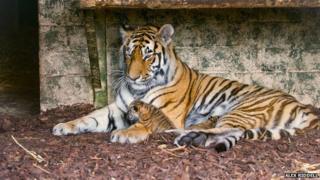 A Highland Wildlife Park's female Amur tiger has given birth to two cubs.
BBC News Scotland online revealed in April that Dominika and male Marty had been mating and park staff had hopes of a litter before the end of the year.
The Royal Zoological Society of Scotland (RZSS) said the mother and her cubs were doing well.
Three dens were built away from public view in the tigers' enclosure where female Dominika could give birth to the cubs.
Dominika is one of a litter of three tigers born at the park in 2009.
Her siblings are at other zoos.
Dominika shared an enclosure with a male called Marty, who arrived last year from a zoo in the Czech Republic.
Up to 500 Amur tigers, also known as Siberian tigers, are thought to survive in the wild in the birch forests of eastern Russia.
Dominika's mother Sasha was put down in 2011 after her health started to fail and she began exhibiting odd behaviour as she got older.
Sasha's long-time mate Yuri was put down in 2010.