Community land could double by 2020, says first minister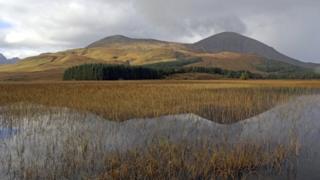 One million acres of land could be owned by communities by 2020, the first minister has said.
Alex Salmond set a target for community land in Scotland to double from its current level through improvements to the right-to-buy scheme.
These measures will be set out in a Community Empowerment and Renewal Bill later this year.
An additional £3m is being made available to the Scottish Land Fund in 2015-16 for community buyouts.
Speaking at the Community Land Scotland Conference at Gaelic college Sabhal Mor Ostaig, on Skye, Mr Salmond said: "We are committed, like no other administration, to land reform and as a powerful symbol of that commitment I am delighted to announce today that we will set a target of a million acres of land in Scotland to be under local control by 2020.
"This is a deliberately ambitious target that can be achieved through a radical reshaping of the right-to-buy landscape that has the potential to transform the fortunes of communities across the country."
Mr Salmond added that the Scottish government's land reform review group was investigating how community ownership could be improved, while the government will consult on a draft bill later this year.
"We now have an opportunity to ensure that more local areas are able to take their future into their own hands," he said.
"If we do this, we will achieve our own shared aspirations: new jobs and new amenities in areas long denied them, and the regeneration and repopulation of communities across Scotland."
Luke Borwick, chairman of Scottish Land and Estates, said: "As an organisation, we are supportive of a broad church of land ownership and support community buyouts.
"We welcome the Scottish government's view that the process of such buyouts should be simplified but we are fundamentally opposed to the concept of enforcing the sale of land to communities or individuals.
"All sales should be on the basis of willing seller and willing buyer, which is the foundation of all property transactions. That applies to every property owner in Scotland."
Land fund
Labour's rural affairs spokeswoman, Claire Baker, said: "Whilst any increase in contribution to the land fund is welcome, particularly if it helps make the purchase of land for a community easier, we were disappointed by what was left unsaid by the first minister.
"Scottish Labour have committed to a community right-to-buy even if there is no willing seller, as long as it is in the public interest. Today Alex Salmond failed to match that ambition."
Mr Salmond's address comes amid a Scottish government-commissioned review of land reform legislation.
Earlier this week, the Scottish Greens urged the government to be "bolder" in its work to reform land ownership laws.
The Scottish Land Fund, which was launched in February 2012 with a pot of £6m, has been extended by 12 months, and will now run until 2016.
The scheme was launched by the SNP to support community purchases of land after a previous land fund was wound up in 2006. The fund is administered by Highlands and Islands Enterprise and the Big Lottery Fund.