Rock and pop in a picture postcard landscape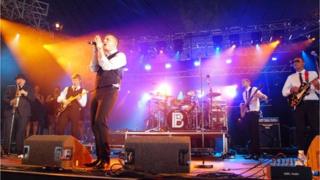 The news rippled through the thousands gathered in the fading light in front of the main stage.
But it was not excitement at the imminent appearance of a headline act, but a football score. Scotland had just beaten Croatia 1-0 in Zagreb.
For football fans in the crowd it was the icing on the cake of their first night at RockNess.
The sun had been shining - sunburns were glowing in the darkness - and Basement Jaxx were about to come on stage, with its backdrop of Loch Ness at the top of the Great Glen, to bring the curtain down on the festival's opening day.
Earlier, the Maccabees had played in the big blue Golden Voice tent and on the main stage, The Vaccines.
The mood was light and friendly. A reveller who had become separated from the rest of his friends bumped into The Maccabees as they wandered close to the main stage. They amiably wished the lost music fan all the best in finding his pals.
Scotland's festival season was now well under way.
Misty and moody
While Friday came to an end under blue skies, Saturday started misty and moody but the sun soon burned off the murk and the temperature started rising again.
Later, in the Golden Voice tent, comedian Daniel Sloss asked if anyone else had woken up as he had in the sauna-like interior of a tent.
Saturday's headline comedy act, Dylan Moran, brought the house down with his routine that involved a hamster in its cage writing prison poetry.
Up-and-coming comedians packed another tent, which would later host performances by bands such as Niteworks.
Back inside the blue Golden Voice tent, the Dog is Dead played to a small but very enthusiastic crowd, which included three people dressed as a chicken, a penguin and a frog.
Outside, other fancy dress included a group dressed as fighter jet pilots and another as Star Wars stormtroopers.
On the main stage, acts included DJ Yoda and American musician Steve Aoki, who threw cakes and sprayed champagne into the crowd.
RockNess will wrap up later with performances by comedian Jim Jeffries, 1980s band Madness and singer Plan B.