Paralympic silver medallist Karen Darke hurt in crash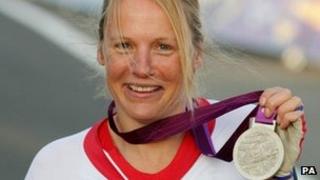 Inverness-based Paralympic cyclist Karen Darke is recovering in hospital after a crash in Cumbria.
Darke, who won silver in the women's H1-2 time trial at London 2012, was on a training run near Penrith last Tuesday when she was hit by a car.
It was understood that her low-slung hand-cycle was hit from behind and the car went over one side of her machine.
Darke is receiving treatment to arm, neck and shoulder injuries at Cumberland Infirmary.
The driver, a 57-year-old man from Penrith, was not injured in the collision near Clifton Dykes.
Cumbria Police is investigating the incident.
Born in Halifax, 41-year-old Darke has based herself in the Highlands for a number of years.
She was paralysed from the chest down in a climbing accident when she was 21.