Ian Geddes found guilty of murdering Charles McKay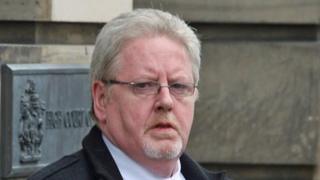 A man who smothered his cousin for his money then made it look like an accident has been found guilty of the murder for a second time.
Ian Geddes, 57, killed 48-year-old Charles McKay at the victim's home in Inverness in March 2003.
Two years after the killing failed businessman Geddes was jailed for life but appeal judges last year overturned his conviction and ordered a re-trial.
A jury at the re-trial has found him guilty by a majority verdict.
Following the verdict at the High Court in Edinburgh, judge Lord Jones told Geddes that only one sentence was possible - life in prison.
Geddes will be formally sentenced next month.
For more than a decade, Geddes had denied he was responsible for his cousin's death.
Flight of stairs
After the incident in 2003, ambulance personnel and police were called to Mr McKay's home in East MacKenzie Park, Inverness.
They found the electrician lying at the foot of a flight of stairs. Geddes, who stayed there from time to time and also lived in Charleston View, Inverness, told them he had found his cousin there.
Although the first reaction was that Mr McKay had died from natural causes, suspicions were aroused when a letter emerged, seeking to alter Mr McKay's will so that Geddes would inherit £25,000.
And a pillow which had been in Mr McKay's bedroom was hurriedly thrown into a dustbin as refuse collectors came down the street.
Geddes, now of Atholl Place in Falkirk, was freed on bail in June 2012 after the original conviction was overturned.
He has now been remanded in custody.