Scotland's only school with fire station officially opened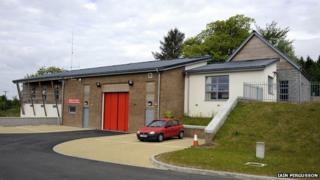 The only primary school in Scotland which incorporates a fire station has been officially opened.
Lochaline's head teacher Keith Adams is also one of the station's team of retained firefighters.
The official opening will also mark the first year of education at the primary, which is Highland Council's remotest mainland school.
The fire service contributed £300,000 towards the £3.2m cost of building the joint school and fire station.
Before construction started, pupils helped to gather rare slow worms from the site of the new two-classroom building.
The legless lizards were found by an ecologist asked to survey the area next to the old school, which has since been demolished.
Scottish Natural Heritage (SNH) recommended catching and relocating the slow worms before they went into hibernation.
Mr Adams said the school was an important community asset.
He added: "Having the fire station incorporated into the building makes us quite unique, and means I have no excuse for being late for a fire call out."
Sarah Jones, chairwoman of the parent council and who is also a reserve with the fire service, said: "It is a privilege to be part of such an amazing school.
"The new facilities are perfect for learning and our children enjoy a fresh, new environment in which to grow and develop."