UK's first musk ox in 17 years born in Highlands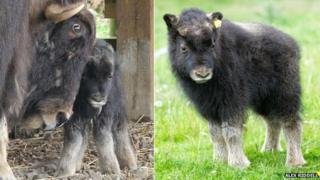 The first musk ox to be born in the UK in 17 years has taken her first steps at her enclosure in the Kincraig Highland Wildlife Park.
Named Belle by park staff, the calf is the first since 1996.
Musk ox, which were once native to Scotland, are difficult to breed in captivity and the young have weak immune systems, the park said.
If Belle survives to adulthood, staff said she would, like other musk ox, be "strong and fairly belligerent".
The park's Douglas Richardson said: "The musk ox is a very challenging species to manage well, especially when it comes to breeding and infant survival.
"The adults are pretty robust, but their offspring can easily become ill from a wide variety of causes."
He added: "The last time there were musk ox in Scotland, at least since the last ice age, was when a couple of animals were brought from Greenland to Edinburgh Zoo in the 1920s."