Best Job in the World: Nairn's Jo Muskus misses out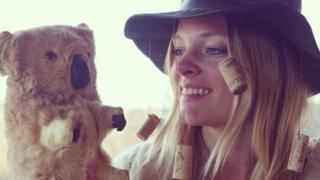 A 25-year-old woman from the Highlands has missed out on a park ranger job in Tourism Australia's Best Jobs in the World contest.
Ecologist Jo Muskus, from Nairn, travelled to Australia to compete for the position in Queensland.
But Elisa Detrez, from France, got the ranger job.
Musician and costume designer Rich Keam, from Brighton, got one of the five other "dream jobs" on offer - taste master of Western Australia.
Eighteen people in total from all over the world were selected for the finals.
Tourism Australia selected the finalists from 330,000 people from 196 countries.
Ms Muskus submitted a series of videos in her effort to win the jobs.
Earlier in the selection process First Minister Alex Salmond wrote to her to wish her all the best with her bid.