Historic Lewis property's furniture put in deep freeze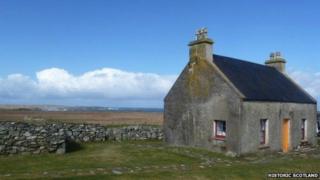 Historic furniture infested with woodworm has been frozen to deal with the pest problem.
The items are a feature of a traditional island home called a whitehouse at Arnol on Lewis.
Staff at Historic Scotland hired a lorry from a local frozen food delivery company and froze the wood and textiles at -30C for four days.
Historic Scotland said freezing has been used in the past to kill beetles, their eggs and larvae.
The whitehouse forms part of a township at Arnol, which includes blackhouses.
Blackhouses are thatched-roof relics of island living which were superseded in the 1900s by whitehouses, which resembled more closely a modern day house.
The interior of the whitehouse is how the property would have looked in the late 1950s and early 60s.
Rona Walker, Historic Scotland's regional collections manager for the north, said staff had to act quickly to deal with the woodworm.
She said: "There are a number of ways in which woodworm can be treated but for historical objects freezing is a popular choice.
"Freezing at low enough temperature ensures that all life stages of woodworm are eradicated."