Dog walking restrictions for new homes at Boat of Garten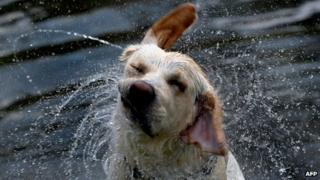 Dog-owning occupiers of 30 new homes to be built in the Cairngorms National Park will asked to heed rules on when and where they walk their pets.
Conservationists had concerns that building on the woodland site in Boat of Garten would disturb birds, such as capercaillie, and other wildlife.
A working group involving Scottish Natural Heritage was set up to look at how to progress the development.
It has recommended restrictions on dog walking when birds are breeding.
There have been calls for new housing from people living in the village and the 30 properties will include 10 affordable homes.
Eleanor Mackintosh, planning convener on the Cairngorms National Park Authority, said "hard work" had gone into reaching a position where the new homes could be given planning consent.
She said: "It has been challenging to find a site in Boat of Garten for new houses due to the environmentally sensitive nature of the area.
"In particular, the adjacent woods are home to capercaillie and the area is well used by locals and visitors for outdoor recreation."
Conditions attached to the planning consent includes:
Guidance to dog walkers asking them to keep their pets on leads and stay on existing paths in certain areas of Boat of Garten woods during the bird breeding season of 1 April to 15 August each year.
Alternative off-lead dog walking routes be promoted, improved or developed close to the village.
A ranger be employed to advise members of the public on local wildlife.
Debbie Green, Cairngorms operations manager at Scottish Natural Heritage, said the organisation was keen to find a solution to the need for housing without harming wildlife.
She added: "Thanks to hard work from all involved we're delighted that this proposal delivers on all three counts."
"Our distinctive native pinewoods and the famous birds and animals that live in them - like capercaillie and red squirrel - are a key asset underpinning the local tourism economy."