Raigmore Hospital's theatres are safe, says NHS Highland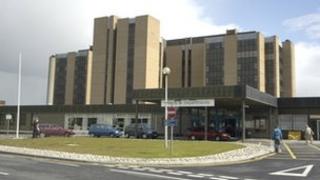 NHS Highland has sought to reassure the public that its operating theatres are safe and working as they should be.
Board chairman Garry Coutts said he was responding to a report carried in Monday's Press and Journal.
In a statement, he said it gave an "unfair impression" of the condition of the facilities.
The newspaper report comes ahead of a meeting where the health board will be asked to approve the start of a process to upgrade the theatres.
A report by NHS Highland officials to Thursday's meeting said the theatres have not had a refurbish since opening 25 years ago.
Officials said changes in guidance and regulation meant they were "no longer consistent with best practice".
The report also said critical care facilities located at three different sites within the hospital require improvements to meet modern standards.
Mr Coutts said board members would be asked to agree that investment in the theatres should be made a priority.
He said: "While the newspaper today accurately reports that our theatres are in need of upgrading to achieve modern standards there is no suggestion, as is asserted in the article, that they are in a condition that creates a risk to the public.
"The report to the board is a 'business case' we have to submit to the Scottish government for funding. By its very nature it has to point out where things are not 100%compliant with the most modern standards.
"However, the fact that we have identified where we need to make improvements does not mean that things are unsafe at the present."
Mr Coutts added that Raigmore has "very low" surgical site infection rates, some of the lowest infection rates of any hospital in the country and has shown a 20% reduction in Hospital Standardised Mortality Rates.