New guidance expected on decommissioning wind farms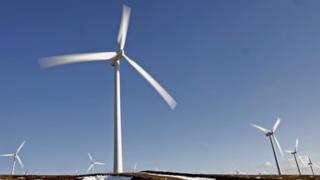 Energy companies could be provided with a step-by-step guide on how to scrap outdated wind turbines without causing serious harm to the environment.
Researchers suggest it would help in creating a consistent approach to decommissioning, and could be adapted to different landscapes.
Scottish Natural Heritage expects to issue new guidance on dealing with old turbines later this year.
Permissions for the operation of wind farms is often for 25 years.
However, in their newly-published report for SNH, researchers said developers usually plan on upgrading equipment after 10 to 20 years.
The report said firms were "willing" and "enthusiastic" to consider how to decommission wind farms, restore the sites and also recycle the towers and blades.
Its authors noted other research that forecasts that by 2034 about 225,000 tonnes of rotor blade material could be recycled every year worldwide.
Innovative uses for outdated towers and blades include it being turned into children's play park equipment, the report said.
Researchers said this has already been done in the Netherlands.