Granddaughter's family tie with A-list Skye crofthouse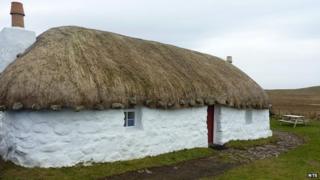 A woman has joined an effort to conserve an A-listed crofthouse where her grandfather and great uncles had lived.
Laura Beaton has been appointed as new fundraiser for the Beaton's cottage and croft land on Skye.
Like her grandfather, Lachie Beaton, Ms Beaton was brought up on a croft. She was raised on one in North Uist where her parents still live.
Following war-time service, Lachie set up home in Glasgow.
Ms Beaton said: "My grandfather, Lachie Beaton, was one of four brothers who lived on the croft.
"They all left home - my grandfather to serve on minesweepers in the First World War."
The thatched roof cottage and surround croft is owned by the National Trust for Scotland.