Plans for Benbecula's first chemists sparks row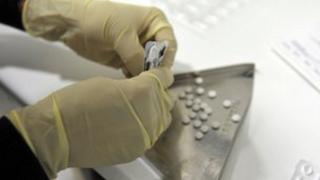 A row has broken out over plans to open the first pharmacy on Benbecula in the Western Isles.
GP surgeries prescribe and dispense medication at the moment and get funding to do so.
This service would end if a chemists opened and leave some people with 60-mile round trips to collect prescriptions, opponents have said.
Local Pharmacies Limited said it had identified public support for a chemists.
Island councillor Uisdean Robertson said it would be unacceptable for patients to make long trips to pick up medication.
Dr Kate Dawson told BBC Radio Scotland that, if GP surgeries were no longer required to handle prescriptions, it would lead to the loss of three dispensing staff and a doctor.
She added that this in turn would have an impact on out-of-hours services.
A spokesman for the company said a chemists would offer better access to pharmaceuticals and services.
Local Pharmacies Limited is expected to make an application to NHS Western Isles. The health board would launch a 60 day consultation on the proposal.