Pearl mussel protection scheme launched on Harris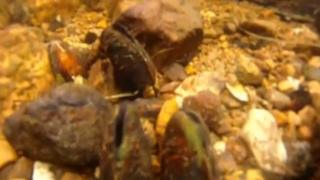 A scheme to discourage poaching of rare freshwater pearl mussels has been launched on Harris, where colonies of the creature were removed last year.
The island is one of 16 Scottish locations being targeted as part of the UK-wide Pearls in Peril initiative.
Scottish freshwater pearl mussels are an endangered species and protected under the Wildlife and Countryside Act.
In 2011, they joined giant pandas and Javan rhinos on a list of 365 of the world's most endangered species.
Poachers were suspected when mussels were removed from remote areas of Harris last June.
Police suggested that they may have been taken by someone unaware of their legal protection.
Pearls in Peril employs river watchers to gather information on where mussels have been disturbed in the past.
The scheme also tries to raise awareness locally about the creatures' protected status.
Rivers and Fisheries Trusts Scotland (Rafts) is involved in the Scottish effort.
During this year's campaign the organisation will work with the River Ness and Beauly Fisheries Trust in the Inverness area.