NHS Highland ending contract with Bounty parenting club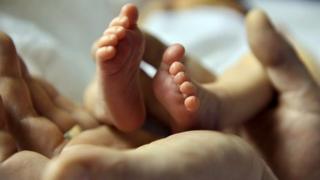 NHS Highland is the first Scots health board to confirm that it has ended its contract with the "UK's largest parenting club" at its hospitals.
Bounty sales representatives can visit mothers just hours after a birth to offer free packs, Child Benefit claim forms and charged-for services.
NHS Highland said the move followed feedback from mothers.
Bounty said it was disappointed by the decision, adding that it provided essential information to parents.
NHS Highland received about £6,000 for allowing Bounty into its hospitals.
A spokeswoman said: "Last week we informed Bounty that we would not be continuing the relationship with them and have given them six months notice as per our agreement. The relationship will end at the end of the year.
"It was clear from talking to women that they would prefer not to be contacted and faced with a sales approach at that time of their lives.
"Also, the commercial nature of much of the material provided in the packs was in conflict with NHS requirement to provide mothers-to-be with balanced and evidence-based information about their and their babies health."
'Dignity and privacy'
England's Poole NHS Hospital Trust has already ended its contract with the company, which describes itself as the "UK's largest parenting club".
This move had also followed consultation with mothers and their families.
A Bounty spokeswoman said the company prided itself in its respect for the "dignity and privacy" of new mothers and its staff worked to a strict code of conduct.
She said Bounty had worked with the NHS for more than 50 years - contributing a total of more than £2m-a-year to health boards and trusts - and was welcome in 99% of maternity wards.
The spokeswoman said: "Bounty is permitted to distribute child benefit forms throughout the United Kingdom.
"According to the HMRC, 82% of all UK child benefit paid is as a result of the forms handed out by Bounty ladies."