'US craft with bullet holes' found off Scottish island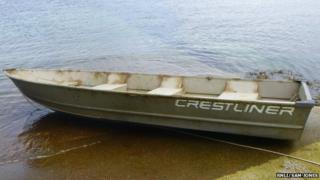 A lifeboat crew has found what appears to be a US Coastguard-certified craft with bullet holes in it off a small Scottish island.
Tobermory lifeboat crew made the find south of Muck in the Small Isles during a call out on Wednesday morning.
The RNLI said the upturned 14ft aluminium dinghy appeared to have been in the water for some time.
A spokeswoman said it appeared to have US Coastguard certification markings and also bullet holes.
Tobermory lifeboat crew spokeswoman said: "Today's shout had an air of transatlantic mystery.
"The crew found an upturned 14ft aluminium dinghy south of Muck.
"The dinghy has been recovered to Tobermory and the Receiver of Wreck has been informed."
The Receiver of Wreck will attempt to trace an owner for the boat.
Stinky Bay
On Monday, the Isle of Mull-based crew also recovered a large red object that resembled targets towed out to sea and used by the military.
The west coast of Scotland is used as a training area during the twice yearly, UK-led Nato exercise Joint Warrior.
Island lifeboat crews have across strange sights in the sea in the past.
In 2008, the crew of a yacht with an empty coffin strapped to the deck had to be rescued by a lifeboat crew after losing their way.
RNLI volunteers from Barra on the Western Isles were called out after the craft got lost on its passage from America to Norway.
The coffin was bound for a bar in Norway's capital, Oslo.
Unusual objects have also on occasions washed up on island beaches.
In 2007, a container that appeared on a beach on the Western Isles was one of six lost overboard from a ship close to the English Channel.
Stornoway Coastguard said the 51ft tank, similar to those used to ferment beer, went missing in the south western approaches to the channel.
Police said it was lost from a vessel three weeks before it washed up on Benbecula.
The container was found by a dog walker on Poll na Crann beach near Griminish - known as Stinky Bay - west Benbecula.