Trossachs and Argyll capercaillie increasingly isolated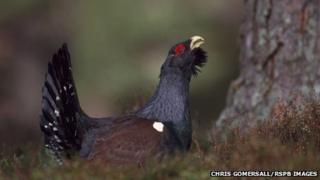 Conservationists have conceded defeat in their efforts to protect populations of capercaillie in the Trossachs and Argyll.
They said there were now only a few birds left and little or no breeding was taking place.
The Cairngorms are the traditional stronghold for Scotland's capercaillie population, but the birds can still be seen further south.
Scottish Natural Heritage said these southern populations had dwindled.
The few birds that are left are centred on the islands in Loch Lomond.
SNH, the Loch Lomond and the Trossachs National Park Authority, RSPB Scotland and local landowners have all worked together to halt the decline, but without success.
Wet summers, predation, loss of habitat, collisions with deer fences and human disturbance are all thought to have played a part in the decline of the species.
Alan McDonnell of SNH said: "The capercaillie is a highly valued part of Scotland's nature, culture and history and we are committed to ensuring its long term survival.
"A lot of people and organisations have worked for many years to help the population of capercaillie on the Loch Lomond islands, but we need to face the facts about this increasingly isolated group of birds.
"As things stand, we need a pragmatic approach to capercaillie conservation and our resources are focused on preserving the core populations in the north of the country."
Alan Bell, natural heritage manager for Loch Lomond and the Trossachs National Park Authority, said: "Despite all our shared efforts, the simple fact is that no new birds are moving into the area to breed with the resident birds.
"Although individual birds were spotted in 2012, we have seen no signs of breeding activity in the last two years."
'Not succeeded'
RSPB Scotland said the impending loss of the capercaillie in the Trossachs and Argyll demonstrated the importance of safeguarding the future of the country's remaining populations.
Anne McCall, RSPB Scotland regional director, said: "Combined efforts to reverse declining population trends have not succeeded and this situation highlights the pressing need to take fast, targeted action wherever possible.
"As such it is increasingly important that resources are found to support work elsewhere for our remaining capercaillie populations if they are not to suffer the same fate."