Ullapool pupils' baby food pouch wins European award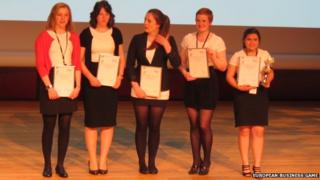 An idea from a group of pupils for a reusable baby food pouch has won a Europe-wide competition.
Ullapool High School's Shona Warwick, Shona Reeve, Annabel Stewart, Ruth Hamilton and Anna MacLeod call their product Squeasy Peasy.
The pouch was made to be filled with home-made food.
The product has won the European Business Game, a competition open to schools from all over Europe. The final was held on the Faroe Islands.
In April, Ullapool High School's team was selected to represent Scotland at the international final.
The pupils designed and made the pouches, which include fox and deer designs.
They also produced a detailed business proposal that included market research, a three-year financial plan, and multi-lingual baby-food recipe videos on YouTube.
Spanish and French were among the languages recipes were offered in.