Liam Aitchison murder: Johnathan MacKinnon to appeal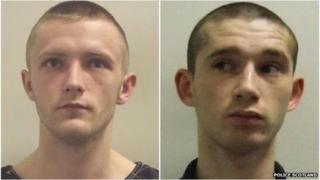 Both men convicted of the murder of Western Isles teenager Liam Aitchison are now challenging their convictions.
Lawyers for Stefan Millar, 22, lodged a notice of intention to appeal earlier this week.
The legal team for his co-accused Johnathan MacKinnon, also 22, has now done the same.
The men were jailed for a minimum of 18 years last month for killing Liam, the first murder on the islands in 43 years.
Liam, 16, from South Uist, was beaten, stabbed and stripped of clothing during the attack on 23 November 2011.
His body was found in a derelict property in Steinish on Lewis.
MacKinnon and Millar denied murder, but were found guilty by a jury.
Liam had socialised with the pair after he started living in Stornoway on Lewis. The three had worked in the fishing industry.
The court heard that on 23 November, Millar and MacKinnon - who were from Lewis, but moved to Elgin and Inverness while on bail - had fought with Liam.
There were claims that Liam had stolen a bottle of aftershave from MacKinnon.
Almost two weeks after he was last seen alive by his girlfriend and other friends, Liam's body was found in a derelict RAF building at Steinish, near Stornoway Airport.
He had been struck on the head and body with a knife and bottle, and his head had been stamped on.
The court heard that Liam had been stabbed 20 times.
The previous murder on the Western Isles had been the killing of 80-year-old Mary Mackenzie at her cottage at Brue, on Lewis, in 1968.
There was a murder inquiry in 2006 after Murdo MacDonald, 56, was beaten by three men in Stornoway, on Lewis, and later died from his injuries.
However, the charges against Mr MacDonald's attackers were later reduced to serious assault.