Helicopter water bombs wild fire in Strathspey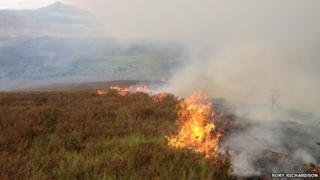 A helicopter has been dropping water on a wild fire in Strathspey.
Firefighters were alerted to the blaze between Laggan and Dalwhinnie at about 13:00 on Sunday.
Crews from Grantown, Spean Bridge, Newtonmore, Carrbridge, Cromarty, Kingussie and Fort William were called in to extinguish the flames.
Firefighters assisted by estate workers and the helicopter have brought the fire under control. They remain on the scene as a precaution.
About 500 acres (202ha) of bracken and brush has been affected.
The fire has also spread to a forestry plantation.
'Carelessly discarded'
Fire Scotland group manager Antony Gardner said the incident highlighted the need for people to be aware of outdoor fire safety.
He said: "The current hot and dry weather conditions we are experiencing pose a high risk of fire and I would urge visitors and local communities that when venturing into the countryside to be aware of outdoor fire safety.
"Members of the public should take care not to use camp fires, barbeques or carelessly discard cigarettes, glass bottles etc. which can result in significant wildfires."
Incident commander Gordon Morrison added: "Firefighters continue to work hard to contain this fire with the assistance of a helicopter and I would like to thank the local landowner and staff for their support."
Do you have pictures - still or moving - of this fire? Send them to the BBC Scotland news website at newsonlinescotland@bbc.co.uk
Please ensure when filming or photographing an incident that you make your safety and the safety of others a priority.
If you submit an image, you do so in accordance with the BBC's Terms and Conditions.