Divers and anglers 'would pay more for' protected areas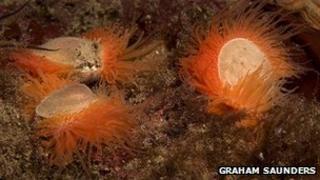 Divers and anglers would be willing to pay more to visit protected areas of sea around Scotland's coast, according to a new report.
The Scottish government is consulting on plans to designate 33 sites as Marine Protected Areas (MPAs).
The report suggests recreational use of 25 MPAs proposed at the time of the research were worth up to £117m a year to the economy.
The study involving Aberdeen University said that figure could be increased.
Divers who took part in a survey held as part of the research said they would be willing to pay extra for even the remotest chance of seeing rare species.
Anglers and divers also said they were prepared to make a donation towards the funding of MPAs.
The study was commissioned by the UK National Ecosystem Assessment, which involves government bodies, academics and environmental charities.
It has been welcomed by the Marine Conservation Society.
Plans to create a huge network of Marine Protected Areas around the coast of Scotland were published by the Scottish government last year.
It is considering protecting 32,000 square miles of seas.
The network is designed to safeguard the future of rich and diverse coastal habitats and maintain a healthy marine ecosystem.
Some opposition has been put forward by fishermen, and the scheme could also impact on offshore renewable energy.
Scottish Natural Heritage and UK-wide advisory body the Joint Nature Conservation Committee has proposed creating the 33 MPAs.
A further four potential areas have been identified to protect dolphins, whales and basking sharks, along with proposals for black guillemot, sandeels and tidal fronts to enhance protection for seabirds.