Orkney, Shetland and Western Isles councils issue leaders call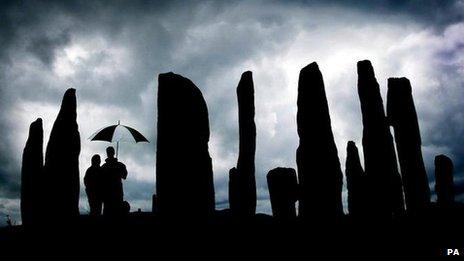 Scotland's three island councils have sought the views of Scottish and UK political leaders on their campaign for great control over their resources.
Shetland, Orkney and Comhairle nan Eilean Siar (Western Isles) launched Our Islands - Our Future in June.
They want the needs of islanders to be adequately taken into account whatever the result of next year's vote in the independence referendum.
Responses from the leaders will be discussed at a conference in September.
First Minister Alex Salmond, Prime Minister David Cameron, Deputy Prime Minister Nick Clegg and Labour leader Ed Miliband have been approached.
Shetland Islands Council leader Gary Robinson said good progress was being made in preparing for the campaign's conference in Orkney on 19 and 20 September.
He added: "The timing of this get-together was critical as it allowed us to refine our message ahead of the cabinet meetings in Lerwick next week when we'll have the opportunity to discuss our aspirations face-to-face with Scottish ministers."
Orkney Islands Council convener Steven Heddle said the local authorities were determined to engage with politicians on both sides of the independence debate.
He said: "By writing direct to political leaders, our aim is to secure tangible commitments that support us in our shared objectives.
"We have asked them to meet us to discuss the questions we've posed, or to respond in writing to us."
The campaign has also secured the unanimous backing of the Islands Commission of the Conference of Peripheral Maritime Regions of Europe (CPMR), which represents 15 million people living in Europe's island communities.
Angus Campbell, leader of Comhairle nan Eilean Siar, said: "The campaign to win increased powers is crucial for the future of island communities and we will continue to lobby government at a Scottish and UK level."
Related Internet Links
The BBC is not responsible for the content of external sites.