New exhibition on Caithness's ancient past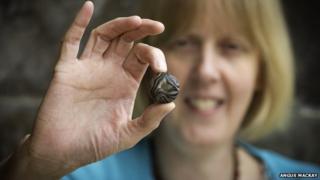 A new exhibition will tell the story of Caithness from Pictish times to Norse settlement of the area.
Thurso museum Caithness Horizons has received £22,654 from Museums Galleries Scotland to develop the display for its Year of Ancient Ancestors Festival.
Exhibits will include a glass bead found near Halkirk dating from AD790-1299 and imported from near the Black Sea.
The ancestors festival will form part of the Scotland-wide Homecoming 2014.
Beki Pope, centre manager of Caithness Horizons, said: "The development of the new exhibition will enhance Caithness Horizons growing reputation as specialists in the interpretation of the Pictish and Norse heritage of the far north of Scotland.
"We are delighted that Museums Galleries Scotland has been able to support his new initiative to showcase our important collection of early medieval sculpture."
The bead was found by amateur archaeologist Robert Murray near Halkirk and was thought to have been brought to Caithness by the Vikings.
Other exhibits include a Pictish symbol stone dating from AD800-900 known as The Ulbster Stone.
This symbol stone once stood in the ancient burial ground attached to the ruined church of St Martin at Ulbster.
Thurso takes its name from the Norse god Thor.