Geese greatest threat to Western Isles crofters, says SCF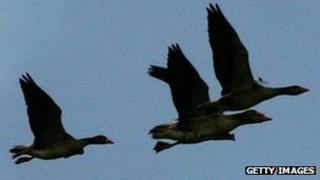 Geese could end an entire way of life on the Western Isles, according to the Scottish Crofting Federation (SCF).
The organisation said the birds posed the "greatest threat" to the future of crofting on the islands by damaging crops and grazing.
SCF has raised an online petition with the Scottish Parliament urging the Scottish government to do more to control geese numbers.
The government said it spends £1.2m a year on goose management.
Ena MacDonald, an SCF representative, said there were an estimated 10,000 geese in the Uists.
She said: "This is the greatest threat to crofting in the islands and could see the end of this way of life.
"The government make a thing of saying they support crofting and want to help young crofters to stay here, but then they do nothing about the fact that the geese are forcing crofting out.
"We just cannot compete against the geese anymore."
The SCF added that greylag geese were now resident on the islands, while in the past they were a migratory visitor.
NFU Scotland has previously said methods of controlling geese to protect grazing land were not "fit for purpose".
The farming organisation said numbers of greylag had increased to levels that could no longer be managed by current schemes.
Scare geese
Government agency Scottish Natural Heritage is funding a three-year trial geese management scheme on the Uists, which started last year.
According to government figures there were about 8,500 greylag resident on the Uists in September 2012.
This number was reduced by about 3,500 with shooting during the open season and under the management trial.
A Scottish government spokesman said: "It is disappointing that SCF have not been attending national goose management meetings and have only recently agreed to re-engage with the process.
"The Scottish government has demonstrated a willingness to take appropriate action in respect of unsustainable numbers of species, such as the resident greylag geese on Orkney.
"However, as SCF are no doubt aware, Scottish government and stakeholders are constrained by international conservation obligations under the Birds Directive in particular for migratory species, such as barnacle geese."
Geese numbers on the Western Isles have been a long-running issue for crofters.
Two years ago, their calls for some geese to be shot were supported by the islands' MSP.
Under the Uist Goose Management Scheme, fireworks, kites and special fencing have been provided to frighten geese away from pastures and arable crops.
People have also been employed to scare geese from August through to October.