Scottish shark tagging project to resume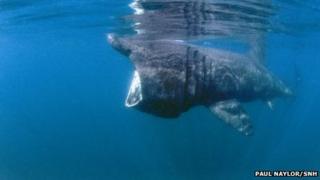 The second year of a project to track basking sharks in Scottish waters is under way.
Scientists from Scottish Natural Heritage and the University of Exeter will attach satellite tracking tags to 27 sharks in the Inner Hebrides.
The tags will allow the public to follow the movements of 15 of the sharks online.
They will also collect data to give the team an insight into the sharks' behaviour during the summer months.
The work is part of a wider programme of marine research led by SNH and Marine Scotland, to help government and others plan for the sustainable management of the sea.
Results from the tagging project will help the Scottish government decide whether a Marine Protected Area should be put in place to safeguard the sharks and help balance environmental interests with industry and recreation.
The tagging project, which began last July, was set up to find out more about the life cycle of the large numbers of sharks that gather around the islands of Coll, Tiree and Canna every summer.
Some of the 20 sharks tagged last year stayed in the area between five and 57 days before the tags detached, the sharks moved deeper or they swam south.
Depth data collected so far has shown that sharks mainly occupy the top 250m of the water column, although two sharks were recorded down at 1,000m, off the edge of the continental shelf.
Dr Suzanne Henderson from SNH, who is managing the project, said: "The second year of tagging will build on last year's work, helping provide insights into shark behaviour year on year and identify any trends in the behaviour of sharks in this area.
"We're tagging more sharks this year to increase the confidence we have in the results and so we can look more closely at how behaviour differs among individuals.
"We hope the public will enjoy taking part again by following the progress of 15 of the sharks online.
"Last year half of the tags stayed on the sharks for over 90 days, with one detaching from its shark (Elgol) after 326 days to the south west of Portugal. We hope this year is just as successful."
Small antenna
The researchers have asked anyone who finds a tag around the shores of the UK to contact them.
The tags are silver/grey, torpedo or oval shaped, 15cm to 18cm long with a small antenna and may still have a plastic tether attached.
Anyone who finds one should contact the SNH office in Oban on 0300 244 9360, or email baskingsharks@snh.gov.uk.
There is a reward available for each tag returned.