Worry over media coverage of Scotland mountain deaths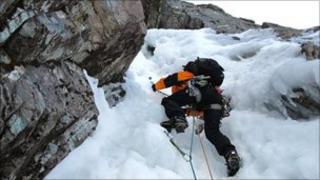 Concerns have been raised over how the deaths of walkers and climbers in Scotland's hills in winter are reported by the media.
The Mountaineering Council of Scotland said last season had seen some "heated and ill-informed debate" following a "distressing number" of fatalities.
It is now working with groups on how to avoid what chief officer David Gibson described as "sensationalist" reports.
Deaths last winter included eight in avalanches.
The number of fatalities caused by avalanches during the 2012-13 season was the highest in years.
Other walkers and climbers died in falls.
Mr Gibson has made his comment on media coverage in the MCofS's newly-published annual report.
He said: "This last winter saw a distressing number of fatal accidents in the hills, tragic in themselves and also raising some heated and largely ill-informed debate in the media."
"It's easy to have a pop at newspapers, television and radio but, more practically, we have got together with other agencies, including the Mountain Rescue Committee of Scotland and the Sportscotland Avalanche Information Service to see what we can do to improve communication between the world of mountaineering and the media, in the hope of avoiding a repeat of the worryingly sensationalist reports and views which were aired during the winter."
In May, 12 mountaineering organisations from across the UK said they were working together on making sure walkers and climbers have basic information on avalanches.
Eighteen snow slides triggered by human activity were recorded in Scotland's mountains last winter.
Sportscotland Avalanche Information Service said that while the number was fewer than the previous season there were eight fatalities.
Updated education messages are being developed ahead of next winter.
The number of deaths caused by avalanches during the 2012-13 season was the highest in years.
According to SAIS, there were none in 2011-12, one fatality in 2010-11 and five in 2009-10.
While there is no suggestion those killed last season did not have avalanche awareness skills - some were described as experienced climbers - the organisations are eager to see all walkers and climbers having basic knowledge of the risk.