Aerial surveys to be done of A9 and A96 trunk roads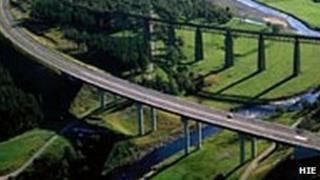 A £590,000 contract has been awarded for aerial surveys of where the A9 and A96 are to be upgraded to dual carriageway.
The Scottish government plans to have the A9 dualled all the way from Perth to Inverness by 2025 and A96 between Inverness and Aberdeen by 2030.
The project to upgrade 80 miles (128.7km) of single carriageway on the A9 is expected to cost £3bn.
A plane will be used by Blom Aerofilms Limited to survey the trunk roads.
Transport Minister Keith Brown said work was progressing to improve the routes.
He said: "There is a great deal of work going on to take forward this government's commitment to dual the A9 and although less advanced, the A96 dualling work is now starting to gather pace.
"The aerial topographical surveys will help support the ongoing preliminary design work on the A9 and help inform the early engineering services work that has now started on the A96 dualling programme."
Earlier this month, Transport Scotland released new details on three contracts worth up to £60m each for the design of a new dual carriageway on the A9.
It said the contracts covered Birnam to Glen Garry, Glen Garry to Dalraddy and Dalraddy to Inverness.
Also earlier this month, the deaths of three people on the A9 in the Highlands were followed by fresh calls for the upgrade of the road to be given higher priority.