SSPCA rescues gull covered in pink paint in Mallaig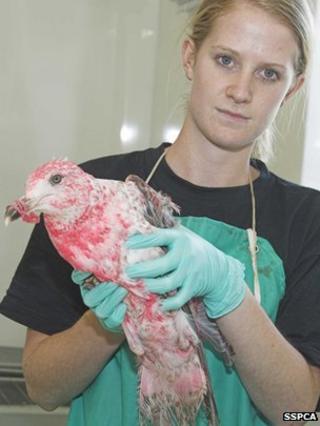 A young herring gull has been found covered in bright pink paint in Mallaig.
The Scottish SPCA believe the chick may have been targeted in a prank which could have led to serious injury or the bird's death.
Officers from the animal welfare charity were alerted to the gull after it was spotted near the town's pier.
Attempts to completely clean it of the paint, or dye, have been unsuccessful so far.
Staff at the SSPCA's Wildlife Rescue Centre at Fishcross, near Alloa, have nicknamed the bird Blush.
Centre manager Colin Seddon said techniques to clean seabirds of oil have been used on the gull.
He said: "However, despite our efforts this paint or dye simply will not budge and Blush remains pink.
"We don't know exactly what type of material it is but we think it could be graffiti-type spray paint or hair dye.
"Although Blush's appearance may have raised a few laughs, we are very concerned that someone has done this to a defenceless creature."
The bird could have been blinded if the paint or dye had gone into its eyes, the SSPCA said.
Mr Seddon added: "We cannot release Blush back into the wild in this condition so we will care for him until he has his first molt and new feathers replace the damaged ones."