RAF Lossiemouth Tornado and Kinross glider in near miss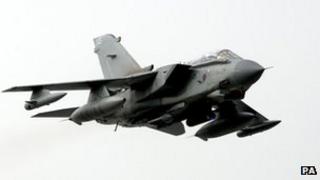 A military jet passed 100ft below a glider in a near miss over the Highlands, a report has revealed.
The Tornado GR4 pilot from RAF Lossiemouth in Moray and a glider pilot flying out of Portmoak Airfield near Kinross took avoiding action.
The incident was investigated by the UK Airprox Board, which has now published its report into 30 April's incident.
Both military and civilian pilots told the board of seeing each other at the last moment near Aviemore.
The Tornado crew, one of two GR4s on low level, air-to-air refuelling and air-to-ground weaponry exercises, and the glider pilot were entitled to be in the air space.
The glider pilot was undertaking a navigation exercise from Portmoak.
The Airprox board said safety of both aircraft had been compromised.