Rail Freight Group calls for Perth-Inverness line upgrade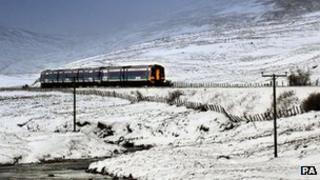 The Rail Freight Group (RFG) has said upgrading the railway line between Perth and Inverness would help to ease travel on the A9 trunk road.
The call follows the Scottish government's announcement that average speed cameras will be installed on the road between the two cities.
The move is being seen as a way of easing travel on the route.
Transport Scotland said ministers remained committed to encouraging a shift from road to rail.
RFG, which represents freight companies and retail businesses, wants more goods moved by rail than road.
It said supermarket chain Tesco's daily freight train to Inverness removed the need for 20 lorries.
David Spaven, the group's spokesman in Scotland, said: "The introduction of speed cameras will do much to cut the accident toll on the A9, but it's important that the Scottish government goes further to reduce the volume of HGVs on the road.
"There is scope for rail to carry far more supermarket traffic as well as Highland exports such as whisky and timber.
"But the Perth-Inverness railway is still two-thirds single-track and there is limited capacity for additional freight and passenger traffic, so a substantial upgrade is essential."
He said RFG was also concerned that dualling the A9 all the way between Perth and Inverness by 2025 would lead to large volumes of freight switch from rail to the road.
A Transport Scotland spokesman said: "The strategic transport projects review recommended both the upgrading of the A9 from Dunblane to Inverness and also rail enhancements to the Highland main line between Perth and Inverness, with freight benefits being an integral part of this project.
"Ministers remain committed to encouraging modal shift from road to rail and continue to offer significant support to the rail freight industry to achieve our aim of economic growth and encouraging sustainable transport."
Camera system
He added: "This includes the Scottish strategic rail freight investment fund, which will provide up to £30m to improve rail infrastructure, and continued funding of the freight facilities grant and mode shift revenue support schemes."
On Friday, the Scottish government said an average speed camera system should be in place on the A9 between Dunblane and Inverness by next summer.
Transport Minister Keith Brown said it was among safety measures to be introduced on the road.
It will be the second average speed camera system in Scotland.
The first was installed on the A77 in Ayrshire between Bogend Toll and Ardwell Bay in 2005. It has been credited with improving safety.
Transport Scotland said it had delivered a 46% reduction in fatal accidents and 35% cut in serious accidents.