Islands fuel discount considered for UK mainland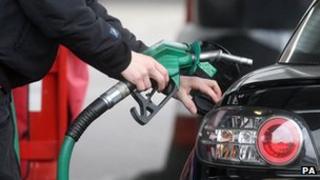 A fuel discount that applies to the Scottish islands and the Isles of Scilly could be extended to remote and rural parts of the UK mainland.
The scheme, which was introduced last year, gives motorists a maximum 5p per litre reduction in duty.
The UK government is now looking at petrol and diesel prices in 36 areas in England, Wales, Scotland and Northern Ireland.
The European Commission would have to approve any change to the scheme.
Introduced in March 2012, the discount applies to the Hebrides, Northern Isles, islands in the Clyde and the Isles of Scilly.
Fuel prices have been sought from almost 1,500 retailers ahead of making an application to the EC in the autumn for an extension to the scheme.
Businesses in the following areas have been asked for information:
England - Cornwall, Cumbria, Devon, Herefordshire, North Yorkshire, Northumberland.
Wales - Gwynedd, Isle of Anglesey, Monmouthshire, Powys.
Scotland - Aberdeenshire, Angus, Argyll and Bute, Dumfries and Galloway, Highland, Moray, Perth and Kinross, Scottish Borders, South Ayrshire.
Northern Ireland - Antrim, Armagh, Ballymena, Ballymoney, Banbridge, Coleraine, Cookston, Down, Dungannon, Fermanagh, Larne, Limavady, Magherafelt, Moyle, Newry and Mourne, Omagh, Strabane.
Chief Secretary to the Treasury Danny Alexander said the scheme aimed to keep fuel prices down where costs of transporting petrol and diesel were high.
He said: "I know that there are other remote rural areas of the UK with similarly high fuel costs.
"So we are today starting to gather further evidence that will form part of an application to the commission to extend the island fuel duty discount scheme to very remote rural areas.
"We will need to prove that there are areas which are similar to the islands in terms of pump prices and distribution costs, so I would urge local areas that may qualify to provide the information we need to make the case as robust as possible."
The Scottish government said rural communities were "crippled by high fuel costs" and any support for these places was welcome.
A spokeswoman said: "Many people are struggling with fuel costs in Scotland - from long haul drivers to those who need to drive for their commute to work, all of which adds to the increasing cost of living.
"The fuel supply market, and the reliance on subsidies, needs to be changed to genuinely deliver fairer fuel prices across the whole of Scotland."
She added that an independent Scotland would have the powers to set a fuel duty regulator and provide a permanent measure to control prices.