Schools to be given choice on Gaelic teaching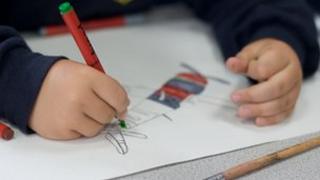 The Scottish government is pouring cold water on claims every primary school child in the country is to start learning Gaelic.
Support agency Education Scotland is to produce materials for schools or councils which want to teach youngsters Gaelic as a second or third language.
But the government is stressing schools and councils can chose whether or not to teach Gaelic in this way.
It wants schools to start teaching a second language in P1 by 2020.
Pilot projects are currently under way at a number of primary schools across the country, teaching children second or third languages.
There is no prerequisite about which languages should be taught.
Gaelic would continue to be one option, with decisions taken locally by schools and councils.
A Scottish government spokesperson said it was "committed to ensuring that every pupil has the chance to learn two languages on top of their mother tongue in primary school.
"Our ongoing promotion of the Gaelic language means it is a key part of this process."