Inverness West Link: Revised designs unveiled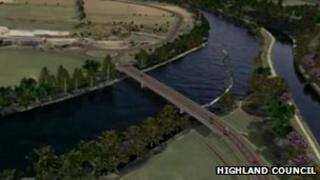 Changes have been made to projects associated with the building of the proposed Inverness West Link Road.
A new sports hub will be bigger and four sports pitches will be created at a different location than originally planned.
There is to be a new golf practise area and land made available for the expansion of Kilvean Cemetery.
Highland Council said it had made the alterations after taking on board views made during public consultation.
The changes also include dropping a plan to make an area of land available for mixed use development.
The local authority said the new proposals should not affect the planned 2015 start date for the construction of the West Link.
Council leader Drew Hendry said the authority had responded "very positively" to the public consultation.
He said: "The boundaries to the sports hub proposals have been changed to accommodate the responses to our consultation and this is why we need to go back out for a further period of consultation on this element.
"The important factor is that this will not delay the start date for the new road in 2015."
Public campaign
Highland Council said the road was needed to ease travel across the city.
The preferred route, known as Option Six, is opposed by a public campaign.
Opponents said it would lead to the loss of public green spaces.
The local authority has referred itself to a public sector watchdog over its handling of the West Link.
Audit Scotland has been invited to investigate allegations that the council's process for selecting the road's route has not been transparent.