NHS Highland warned of forecast £9.8m overspend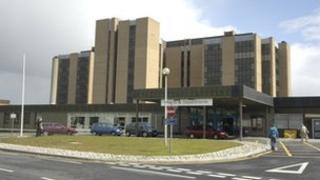 The finance chief of NHS Highland has said it is facing a possible overspend of £9.8m.
Nick Kenton will give a report on the forecasted spending at a meeting of the board next week.
He admitted the possible overspend was giving him "some cause for concern".
But he will tell members that NHS Highland should break-even by the end of the financial year if it delivers on savings targets. Mr Kenton will also report on efforts to reduce costs.
Board members will be told that spending at Raigmore Hospital in Inverness and on adult social care were factors behind the forecast.
Mr Kenton said the figure was in line with what had happened in previous years.
Among other matters to be raised at the meeting is progress with infection prevention and control.
NHS Highland has met all targets for Staphylococcus aureus bacteraemia (SAB) and Clostridium difficile (C.diff) in patients aged 65 and over as at March 2013.
However, board members will be told that there were still several key challenges, including the prevention and reduction of C.diff infections acquired in the 15-64 age group in the community.
The development of a replacement health centre in Tain, challenges in recruiting and retaining staff in remote and rural areas and steps taken to address health inequalities in the Highlands will also be raised at the meeting.