Kingussie High School reopening delayed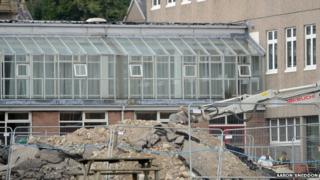 A school in the Highlands will not reopen as planned following the summer holidays.
Kingussie High School was to open to pupils on Wednesday, but a new extension has not been fully completed and the site cleaned up.
Highland Council said the reopening of the school had been rescheduled for Friday.
The local authority said the situation was "extremely disappointing" and apologised for the inconvenience.
A spokesperson said: "We are extremely disappointed that despite the huge efforts that have been made by many to have the school open as planned to pupils tomorrow, this is not going to be possible, due to the amount of work required to set up the classrooms and the time required to allow staff to prepare for the arrival of pupils.
"Regrettably, we have had to take the decision to keep the school closed to pupils."