Highland Council maps its Gaelic education provision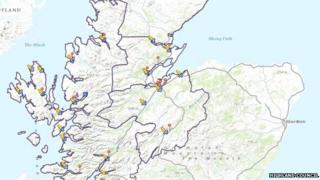 Highland Council has launched an online map showing where it provides Gaelic education in nurseries, playgroups and schools.
The local authority said it hoped the resource would be useful for parents and also help it to identify gaps in provision.
The map shows the locations of primary and secondary schools where the language is taught.
Other details include numbers of pupils attending the classes.
The map comes just weeks after the council opened its first Gaelic medium primary school department in Caithness.
It is based at Mount Pleasant Primary School in Thurso which is home to a Gaelic nursery with 19 children.