American Foulbrood bee disease find in Inverness prompts warning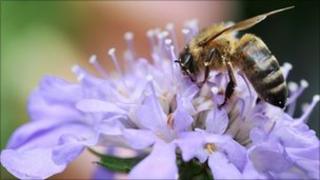 Bee keepers in Scotland have been told to be vigilant after a disease which can wipe out honey bee colonies was found in Inverness.
Experts said American Foulbrood (AFB) had been discovered in an apiary in Strathglass.
The Scottish government said the infected hive had been destroyed.
It added that there was no risks to public health and no implications for the quality and safety of honey, but it said bee keepers needed to be vigilant.
They are being advised to maintain good husbandry practices and to watch out for signs of the disease which include sticky larval remains when drawn out with a matchstick and sunken, greasy or perforated wax on the honey.
Outbreaks of AFB have previously been reported in Stranraer and in Perth.
The government urged bee keepers to register on BeeBase, the national bee database. It said that by joining they would be given access to up-to-date information on the control of AFB and bee related issues.