Plan to secure greater powers for Scotland's isles agreed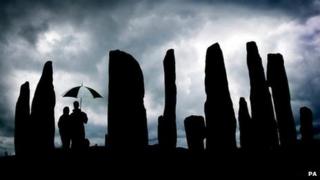 Scottish island council leaders and Local Government Minister Derek Mackay have agreed a plan to secure more powers for the isles.
Shetland, Orkney and Comhairle nan Eilean Siar want islanders to have more control over resources.
The councils want this to happen whatever the result of next year's vote in the independence referendum.
The plan includes devolving functions of the Crown Estate, which owns land, coastlines and seabed.
It also covers working towards giving islanders greater control over energy, renewables, transport and governance.
The plan was agreed at the first meeting of a ministerial working group set up to examine the transfer of powers to the three island authorities.
Representatives from the local authorities took part in the gathering in Edinburgh.
The three councils launched their Our Islands - Our Future campaign in June.
Last month, First Minister Alex Salmond made a commitment to the island authorities in the government's Lerwick Declaration.
The next meeting of the group will take place early in October in Stornoway on Lewis, when the group is expected to consider a number of issues including energy.
'First step'
Mr Mackay said: "The Lerwick Declaration made clear that this government is committed to the principle of local decision-making.
"I'm therefore pleased that at the first meeting of the Island Areas Working Group we discussed an ambitious work plan to look at the potential for further devolution of powers for Scotland's islands and the opportunities that independence could open up for our island communities, including energy, renewables and the Crown Estate.
"I look forward to developing this agenda in more detail and agreeing a prospectus for the future of the islands in the context of the referendum."
Steven Heddle, convener of Orkney Islands Council, said the plan was an important "first step" to develop opportunities for the islands.
Gary Robinson, leader of Shetland Islands Council, said: "This is a welcome opportunity to begin a discussion with ministers on a wide range of issues which are at the heart of the islands' economies.
"It's particularly important as we approach a time of constitutional change to explore all the options that may be available to us."
Angus Campbell, leader Comhairle nan Eilean Siar, said the Western Isles council was looking forward to hosting the next meeting.