Dalnaspidal station moved to Insider Festival site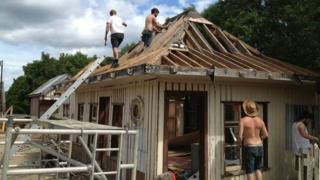 What was once the "highest railway station in Britain" has been taken apart and will be rebuilt at the site of a music festival.
The wooden Victorian building was built at about 1,400ft at Dalnaspidal and was opened in 1864.
In the 1970s it was taken down and rebuilt in Aviemore and had been in the care of Strathspey Steam Railway.
After becoming surplus to requirements, it has been moved to Inshriach, home of the Insider Festival.
Once rebuilt on the small estate outside Aviemore, it is proposed to offer it as a space for teaching or recording music.
Walter Micklethwait, of Inshriach, said: "I see it as a little bit of history, it was both the smallest and the highest railway station in the British isles.
"I'm a bit hooked on old and beautiful buildings in peril, I like a challenge, and who wouldn't say yes to a railway station if they happened to have somewhere to put it and the people to move it?"
He added: "It is in pieces across the yard, the drawings are being finalised this week and the plan is to reconfigure it again, restore the fabric of it and build ourselves the most improbably located railway station in Scotland."
The Insider Festival is held in June.
According to Gaelic heritage website, Am Baile, Dalnaspidal was opened by Perth and Dunkeld Railway.
Earlier this month, Strathspey Steam Railway celebrated the 150th anniversary of the opening of a line from Perth to Inverness.
The society runs vintage locomotives between Aviemore and Broomhill.
Eventually it hopes to extend its railway to Grantown-on-Spey.