Pixar's Brave forecast to generate £120m in five years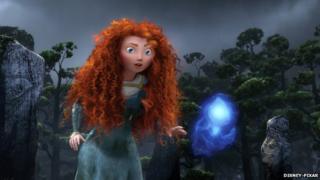 Scotland is seeing the benefits of a multi-million pound global marketing campaign tied in to last year's movie Brave, VisitScotland has said.
The tourism body said part of the activity in its joint marketing campaign with Disney, had reached 505 million people worldwide.
VisitScotland said the first of thousands of people have started coming to Scotland because of the film.
The visits are forecast to generate £120m over five years for the economy.
Over the next 10 years, Brave is expected to generate more than £140m in business for Scotland, according to VisitScotland.
It said two of the places and landscapes that inspired some of the locations and scenes in the film have already seen a rise in visitors.
The cliff top ruins of Dunottar Castle, near Stonehaven, had 16% more visits this summer than the same time last year.
Callanish Stones, which were visited by writers and artists from animation studio Pixar during a fact finding tour of Scotland, was an inspiration for the film's ring of stones.
VisitScotland has spent £7m on the joint marketing campaign with Disney.
According to research by VisitScotland, about 82 million people in the UK, North America and Europe saw the campaign's TV advertising.
Written material reached 505 million people worldwide and more than six million people were made aware of the film, and its connections with Scotland, through social media.
US and Canadian tourists on Disney's Scotland: A Brave Adventure tour have spent time in the Kingsmill Hotel in Inverness, Edinburgh's Balmoral Hotel and Cuillin Hills Hotel on Skye.
Disney said that hundreds of people have already booked for the 2014 tour.
Tourism Minister Fergus Ewing said Brave was a global success story and a major boost for Scotland.
He said: "Brave has increased international awareness of Scotland and showcased the magnificent historic sites and beautiful landscapes that our country has to offer.
"I'm delighted by the success of the film and the boost we expect it to continue to bring to the economy."
Mike Cantlay, chairman of VisitScotland, said: "This is just the beginning of how VisitScotland plans to maximize on Brave.
"One of the reasons we were so determined to work with Disney was that the movie was dubbed into every relevant language across the world, an ideal vehicle to reach emerging markets.
"What's more, Brave is primarily targeted at a young, influential audience. I genuinely anticipate Scottish tourism benefitting from this movie well into the 2020s."
Bruce Austin, Adventures by Disney manager for Asia, Africa, Australia and Europe, said the division's 2013 season had been an "outstanding success".