Preferred option for A9 Berriedale Braes upgrade by 2014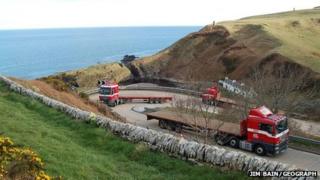 A preferred option for improving a notorious section of the A9 should be known next year, Transport Scotland has said.
The trunk road drops from 150m (492ft) to 20m (65ft) as it enters a valley at the Berriedale Braes in Caithness.
There is also a hairpin bend which can cause difficulties for drivers of large vehicles.
Transport Scotland is preparing to award a £90,000 contract for ground investigation work to BAM Ritchies.
It forms part of a wider design project which aims to provide a preferred option in summer 2014.
The ground investigation is expected to begin early next month and last for three weeks.
Transport Minister Keith Brown said the results would inform a possible solution to the hairpin.
He said: "This government is committed to an improvement scheme at Berriedale Braes where the natural geography makes a challenging road alignment, particularly for HGVs and other long vehicles.
"We will continue to work with our partners to ensure that the design of this vital scheme is progressed as a matter of urgency and ready for next summer."
The A9 is the longest trunk road in Scotland.
Last week, Mr Brown said a £3bn project to upgrade the route from Perth to Inverness to dual carriageway should be past the halfway mark by 2022.
The project is to be completed in 2025.