Hillwalkers and climbers urged to use contact form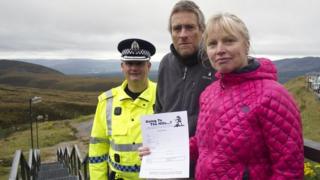 A form that climbers and hillwalkers are encouraged to fill out before heading into Scotland's hills has been made available online.
Previously it had to be picked up in person, but can now be accessed on the internet and then printed out.
The Going to the Hills contact form has details that would be useful to police and mountain rescue teams in the event of an emergency.
Once filled out, the form is to be left with a friend or family member.
Details asked for include vehicle registrations, mobile numbers and information on the route of a planned walk or climb.
'Unexpected happens'
Supt Gus MacPherson, of Police Scotland, said: "The contact form is not a new idea but as we approach the autumn and winter months it is the ideal time to encourage its use by all those who enjoy the outdoors.
"This information can provide an early alert if you or your party fall into difficulty and early notification can make all the difference to your safety especially during poor weather and low temperatures."
Scottish Mountain Rescue said information provided could help rescuers locate people who had become lost or were injured.
Heather Morning, of the Mountaineering Council of Scotland (MCofS), added: "I would encourage anyone, but particularly those who head out into the hills alone, to print off a few of these forms and complete one each time they head out.
"No-one thinks that they will have problems in the hills, but sometimes the unexpected happens. Taking a few minutes to complete a 'Going to the Hills' form could prove to be the most important thing you have ever done."